ALERT: Scout spring canola NOW for flea beetles
May 23, 2022
Flea beetle at or above action threshold.
We have received multiple reports of crucifer flea beetles at or above action thresholds in spring canola fields in eastern Washington and northern ID.  With cool soil temperatures and/or late planting dates, canola is growing slowly or just emerging, so plants are susceptible to flea beetle damage even with seed treatment.  Warmer temperatures the next couple of days may kick the flea beetle feeding into high gear.
*** Scout fields immediately with spring canola that is not yet to the 4-leaf stage. ***
Damage: Adult beetles feed on cotyledons shortly after seedling emergence. The first symptoms of feeding injury are holes or small pits in the true leaves and cotyledons, and can also include stem damage (see photos below).  Leaf edge feeding can also occur with high flea beetle populations. During rain or cooler weather, the beetles will feed on the underside of leaves, on stems, and in the growing point.  At growth stages past the cotyledon stage, feeding on the growing point can be quite damaging.  The beetles remove only a small part of the newly formed leaves, but when the leaves expand, there are large areas missing, as visible in the photo below.  After the crop is beyond the four- to five-leaf stage, serious damage usually does not occur unless the flea beetle populations are especially high.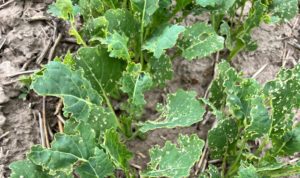 Thresholds: The action threshold for control is 25% defoliation or leaf area and stem feeding damage.  If plant populations are lower than the recommended 5 to 8 plants per square foot, the threshold may be lower.  NOTE that damage can increase from 25% defoliation and beyond quickly, especially in newly emerged plants in the cotyledon stage.  Flea beetle damage tends to be most severe around the outside of canola fields, and spraying field borders may be enough to control lighter infestations. The photo below was taken along a field edge, where some plants are almost completely defoliated.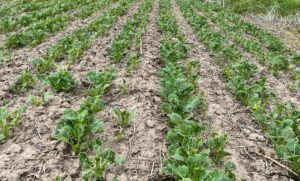 Canola Council of Canada has an excellent visual showing various levels of defoliation/damage:
Control: Seed treatment is the first and best line of defense, and all spring canola seed sold commercially is treated, most commonly with an insecticide and fungicide to protect against early season insects (i.e. flea beetle) and diseases.  Newer seed treatments have longer periods of control for flea beetle (e.g. 35 days) while others have 21-28 days. We are hearing from growers with different spring canola cultivars that damage they are seeing depends on the variety, which is likely from the different seed treatments chosen by seed companies. Regardless of seed treatment, the weather this spring has been a challenge for many between getting seed planted on time, and cool temperatures and rain potentially weakening seed treatment efficacy over time. 
If foliar treatment is required, contact your chemical dealer or crop advisor for recommendations.  A study at University of Idaho showed that over 4 years, a foliar spray added ~215 lbs/acre to the yield on average. At today's prices that's a $65-75/acre gain. In the same study, the highest yield increase observed was 492 lbs/acre. Insecticide may be tank mixed with spring herbicide application, saving a trip across the field. Read and follow all label instructions.
Please contact your crop advisor for foliar treatment options, or the PNWCA at pnwcanola@gmail.com or 808-283-7013 if you have further questions or photos to share.  
—————————————————
Resources:
Canola Pests: Identification, Thresholds and Control Options – presentation at PNWCA Canola workshop, Nov. 29, 2021 (flea beetle info begins at the 1:00 mark)
Impact of Flea Beetle Damage, Insecticide Application, and Delayed Seeding Dates in Spring Brassica Crops  (p. 53) – 2021 WSU Dryland Field Day Abstracts: Highlights of Research Progress (pdf)
Determine management strategies to minimize seed yield loss in spring canola due to flea beetle infestation – 2020 Report to Idaho Oilseed Commission  
Estimating flea beetle damage in canola – Canola Council of Canada, May 9, 2011
How to assess leaf area loss from flea beetles – Canola Council of Canada, June 3, 2020
People FirstAt Wilbur-Ellis Agribusiness, it all comes down to the people. Our 101-year-old company is still family-owned and operated. We're...