Notice: Spring canola seed sprouting in the pod
August 16, 2021
Seed sprouting observed in maturing spring canola
Dr. Don Wysocki at Oregon State University recently shared the following notes with OSU faculty and staff after we received reports from Oregon and Washington about spring canola seed sprouting in unharvested canola:
"This message is to make you aware of and provide information on an unusual condition observed in spring canola the past 3+ weeks: sprouting of seed within the pod of yet unharvested canola.  Our Canadian colleagues have termed this "precocious sprouting":   https://www.canolacouncil.org/canola-watch/2019/09/24/what-causes-canola-seeds-to-sprout-in-the-pod/ .  It is attributed to drought and heat stress, which we've had plenty of this spring and summer in the PNW.
Sprouting has been observed in fields in Umatilla County, Oregon and in Asotin, Garfield, Lincoln, Spokane, and Whitman Counties in Washington.  It is likely that it could be in other areas of Idaho, Oregon or Washington as well.  In four spring canola fields in Umatilla County that  I've investigated, sprouted seed was not above five percent.  Attached are several images showing sprouted from those fields. (click here to see attachment: Sprouted Canola July 2021 DJW).
WSU and UI faculty, myself, farmers, the PNW Canola Association, Viterra (crusher at Warden), and other local elevators have been communicating about the sprouting.  We encourage growers to scout fields ahead of harvest, or if harvest is underway check the seed in the bulk tank or bankout wagon. If sprouting is observed, contact your grain buyer and/or crop insurance agent to determine next steps.  The seed will be graded by the buyer and discounted according to the amount of sprout and other dockage.
It is acceptable to store the seed as long as the moisture content is 8 percent or less. 
Below are two links to additional information
https://www.agriville.com/threads/1865-canola-seed-sprouting-in-the-pod
https://www.canolacouncil.org/canola-watch/2014/09/04/sprouted-canola-seed-grading-guide/
Please contact me at dwysocki@oregonstate.edu or 541-969-2014 f you have further questions or insight.  
—————————————————
Further information from the PNWCA:
Photos from initial observations were posted on our Facebook (@PNWcanola) and Instagram (@pnwcanola) pages on July 26 and are also below.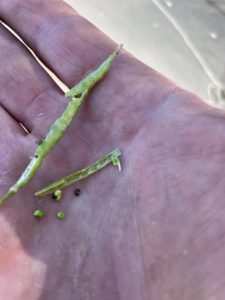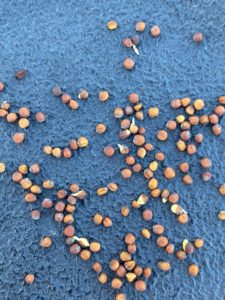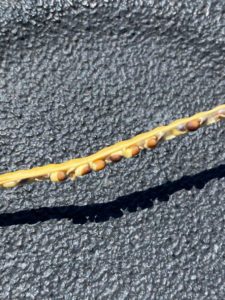 The photo below was submitted a week later from a farm in Asotin County, Washington. Note there are several seeds that on first glance appear sprouted but only the seed coat has cracked, and the overall percentage of sprouted seed is minimal.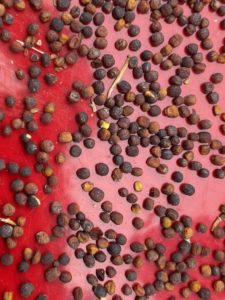 We received the following photos last week from Lincoln and Whitman counties in Washington. Sprouting seems to be more prevalent in pods that are still green, or have ripened and are still pliable, more often on plants that are putting out new growth despite the drought.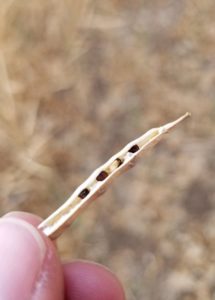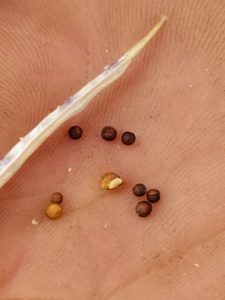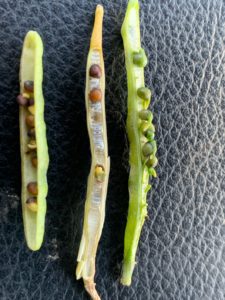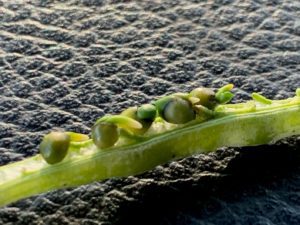 Dr. Wysocki recently retrieved seed from spring canola they had swathed and harvested earlier this summer at the OSU-Pendleton station to check for sprout and there was none. He theorized that perhaps swathing cut off and prevented what little water there was in the stalk from getting to the seed, and thus eliminated sprouting. Another thing several producers have observed is fewer sprouts from when the seed is in the bulk tank to when it is augered into a bankout wagon and/or truck, presumably from the vibration and friction that may be knocking off some of the sprouts.
If you have other observations or ideas, or photos of sprouted seed please contact us at pnwcanola@gmail.com or 808-283-7013. 
Resources:
What causes canola seeds to sprout in the pod? Canola Council of Canada, Sept 24, 2019
Sprouted canola seed – grading guide  Canola Council of Canada, Sept 4, 2014
Our Company WinField United, a company of Land O'Lakes, Inc. has worked with US Canola breeding programs providing genetics for...